Wolar Industries - RTJ Gaskets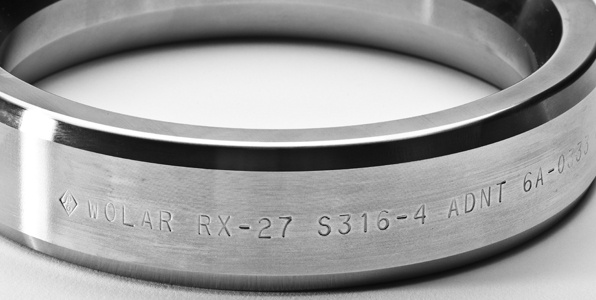 Established in 1992, Wolar has remained a privately held company whose owners are located in the Houston, Texas area. Wollar's valued customers continue to support and purchase USA made RTJ gaskets.
Wolar gaskets are precisely machined to API and or OEM specifications on CNC equipment allowing repetitive quality machining through all processes. A computerized CMM (coordinate measuring machine) is used to assist quality control personnel in inspecting and generating customized inspection reports for the intricately designed OEM gaskets of our customers.
To assure the customers that raw materials meet both API and OEM requirements, a PMI gun (Positive Material Identification), along with a Brinell Hardness Testeris used to accept incoming materials. The material hardness is crucial to assure a proper seal between gasket and ring groove. The material chemistry plays an important role in the corrosion resistance required of the gasket.
All carbon steel gaskets are Zinc plated in Wolar's very own plating line designed with the latest plating technology to specifically plate RTJ gaskets. Wolar facility is continually audited by all government agencies at City, State and Federal levels and has always been in compliance. Wolar's uniqueness does not end here.They also rubber coattheir BX and R type gaskets for hydro-testing applications.
They do all this to ensure that Wolar makes a serious effort to supply you with the best quality and service available in the USA and the World.
For more information contact us directly or visit www.wolar.com.